Mannheim has sold over 40 million albums, outselling artists such as Bruce Springsteen, Bon Jovi and Billy Joel, making them one of the top 50 best selling artists during the past two decades
If you lined up all the CDs sold, they would stretch from New York to Los Angeles and then into the Pacific Ocean — more than 3000 miles.
If you stacked up the CDs, they would be taller than the Sears Tower — 645 times taller.
The band's name came from Mannheim, Germany where Mozart lived. Mannheim Steamroller is the name for an 18th century musical technique known as the crescendo.
Chip formed the American Gramaphone record label in 1974 when no label would take on his music. Today, American Gramaphone is one of the most successful independent music franchises in history.
Mannheim Steamroller's music styling, dubbed "18th Century Classical Rock", is largely credited with establishing the genre of New Age music.
The music industry told Chip, "Don't do a Christmas album because that will signal the end of your career." Mannheim Steamroller Christmas went on to sell five million copies after Chip produced it himself — and changed the sounds of Christmas music forever.
Mannheim Steamroller is the #1 Christmas music artist of all times, selling over 27 million albums. The second highest Christmas artist is Elvis Presley.
Since 1984, Mannheim has traveled more than 27 million miles, hung more than 2.6 million square feet of video screen, and booked more than 41,000 hotel rooms in eight different time zones for its annual Christmas Tour.
Chip has created two traveling troupes for the Mannheim Steamroller Christmas Tour to meet continuing popular demand even after 25 years.
The top-selling non-music product on the Mannheim Steamroller website is Cinnamon Hot Chocolate. The hottest selling ring tone for mobile phones is "Carol of the Bells"
The group has traveled throughout the world for recording sessions and concerts including London, St. Petersburg, Russia, throughout Germany, Puerto Rico, Canada and Mexico.
Don't forget your Hot Chocolate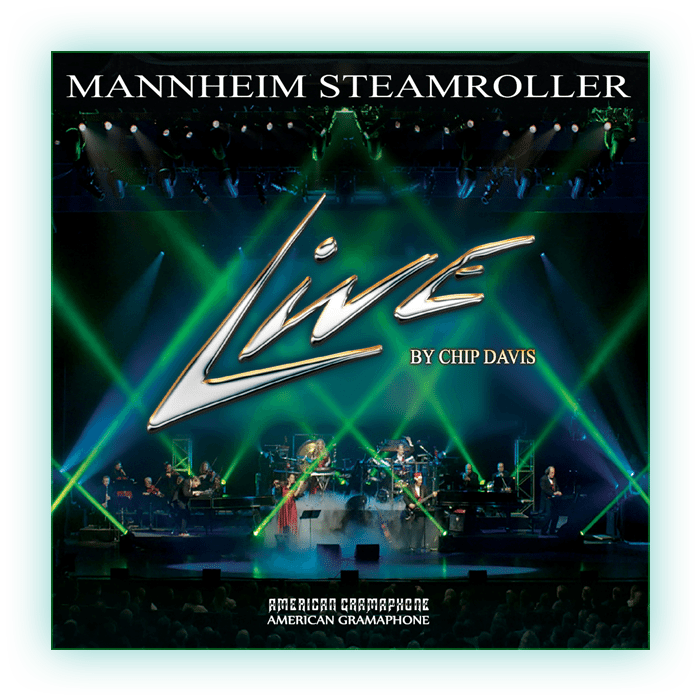 Mannheim Steamroller Live
Available Everywhere!!!!!
We've just released our first live album in almost two decades, Mannheim Steamroller LIVE.   It's available in CD, DVD and —for the first time ever —Mannheim Steamroller Blu-Ray! The album was recorded in concert in surround sound at the majestic Orpheum Theater in Omaha, NE, the hometown of Chip and Mannheim Steamroller.  The album includes timeless Mannheim pieces that have become cherished Yuletide classics over the past 30 years, along with tracks from Chip's iconic Fresh Aire series which made its debut 40 years ago.  The DVD and Blu-Ray also take you behind the scenes in the filming of Mannheim Steamroller LIVE.  A "must-have" for all our fans and perfect for Christmas gifts!
After a small review we listed some of our most popular Cd's from fans!
Christmas Extraodinaire
80%